Null routes are probably the single most misunderstood element of DDoS protection. For some reason it is assumed since I have paid for and have DDoS protection my IP will never get nulled. This could not be farther from the truth. Every DDoS product or service we offer list's the maximum protection level for the service you purchased. See example below...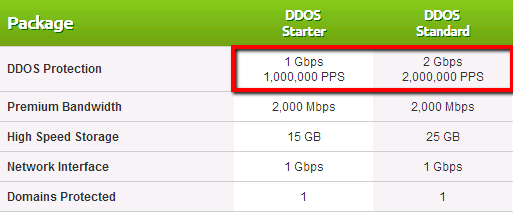 As you can see for example the "DDOS Starter" includes up to 1 Gbps of DDoS protection. This means we will protect your site for ALL attacks up to 1 Gbps. Should your IP get a sustained attack EXCEEDING 1 Gbps your IP will be nulled for a minimum of 4 hours and removed on request. It confounds most of us why this is so hard to understand. The maximum protection limits are clearly listed for a reason...so you are aware of what you are purchasing.

The next most common question once a user has found out there IP has been nulled is can I get a refund I did not know you would null my IP. Really...and what did you think the limits were posted for? Did you think we would just eat all this bandwidth and protect you with no limits? Most people with common sense understand the rules and agree to play by them. We have found over our years of experience that the users who throw fits and demand this or that are usually a fraud order to begin with or know they get attacks that are very large and just hope we'll accept it and protect them for free.

Ignorance of what you purchased is no excuse...you read the website, signed up and paid. You are fully aware of what the limits were when purchasing our services we have ZERO tolerance for users who like to play dumb and make demands.

OPENING MULTIPLE TICKETS DEMANDING NULL ROUTES BE LIFTED SOONER THAN 8 HOURS IS A WASTE OF YOUR TIME AND OURS.